Going into hospital can be a difficult time for anyone. Disabled children and young people are likely to go into hospital at some point in their lives, for short outpatient visits or sometimes a longer stay. This page has information that might make your visits easier.
Check out the Bristol Royal Hospital for Children's young person website!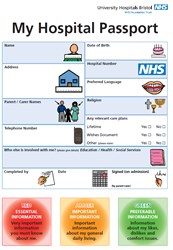 Hospital Passports
A hospital passport is a document for children and young people with a life long disability. It has all the information a doctor or nurse in the hospital might need to know about you or your young person.
It is stored on the Bristol Children's Hospital computers so it can be read before you come for your appointment

Find out more about Hospital Passports.
Learning Disability Liaison Nurses
Most Hospitals have a Learning Disability Liaison Nurse. They can help to make sure a person with a learning disability gets the care they need. Often they will meet with you soon after you arrive for a stay in hospital. It may be possible to arrange a meeting before the hospital stay.
Lead Disability Specialist at Bristol Royal Hospital for Children
Martyn Wood
0117 342 8653
bchinfo@uhbristol.nhs.uk.
Find out about Martyn and his team.
NHS Choices has more advice on going into hospital if you have a learning disability.
Find out more about going into hospital after turning 18.
This page has information for residents in the City of Bristol. Find out about what other Local Authorities do.
Last Update 1 December 2016 by Findability Team.
We make sure we keep information on Findability as up to date as we can. If you think this page is out of date or inaccurate please contact us on sendplus@bristol.gov.uk. Findability is not responsible for the content of external websites.